Let God guide you in your life. It is never late nor is it a bad time to hear the Word of God! Download the best app to read the Holy Bible!
Not only read, you can also listen to it. It is an audio Bible, adjust the tone, volume and listen to the Word of God through your headphones.
BEST BIBLE FOR DAILY READING
-It is always free of charge
-Works online and offline: no need to be connected to the internet
-It has audio system: click and listen to verses or the whole chapter. Easier than reading!
-Easy navigation through the whole biblical text
-Use keywords to find what you are looking for
-Add notes to verses
-Change the font of the text and apply night mode to protect your eyes
FIND HOPE AND INSPIRATION IN THE BIBLE
-Highlight verses and make a list of favorites
-Open your phone and you'll get the verse of the day
-Convert verses into photos to share and use on social networks
-Send verses by email, messenger or WhatsApp
-Share Bible verses and passages directly on Facebook, Twitter or Instagram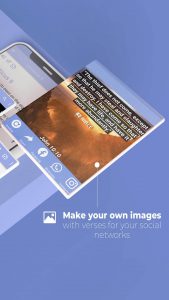 EXPLORE THE BIBLE AND ITS 66 BOOKS
The Old Testament is composed of 39 books:
Genesis, Exodus, Leviticus, Numbers, Deuteronomy, Joshua, Judges, Ruth, 1 Samuel, 2 Samuel, 1 Kings, 2 Kings, 1 Chronicles, 2 Chronicles, Ezra, Nehemiah, Esther, Job, Psalms, Proverbs, Ecclesiastes, Song of Solomon, Isaiah, Jeremiah, Lamentations, Ezekiel, Daniel, Hosea, Joel, Amos, Obadiah, Jonah, Micah, Nahum, Habakkuk, Zephaniah, Haggai, Zechariah, Malachi.
The New Testament is composed of 27 books:
Matthew, Mark, Luke, John, Acts, Romans, 1 Corinthians, 2 Corinthians, Galatians, Ephesians, Philippians, Colossians, 1 Thessalonians, 2 Thessalonians, 1 Timothy, 2 Timothy, Titus, Philemon, Hebrews, James, 1 Peter, 2 Peter, 1 John, 2 John, 3 John, Jude, Revelation.