We have created this app to help you read or listen to the Bible. Download the best app to have the Holy Word on your smartphone or tablet Android.
The offline Bible to use without internet and with audio. Listen to the Bible text with your headphones, verse by verse or the whole chapter. Adapt the tone and volume.
Install now the best Bible app and enjoy it!
KEY FEATURES OF THE BIBLE
-King James Version of the Bible
-66 books in it
-Free
-Friendly user interface and design
-Offline
-High-quality audio
-Browse the complete Bible very easily
AMAZING NEW FEATURES:
-Highlight verses with different colors and make a list of favorites
-Add notes
-Change the font size with the one that fit your needs
-Set night or day mode to reduce your blue light exposure 
-Search by keyword
-Resume your reading at the last paragraph you read
SPREAD THE HOLY WORD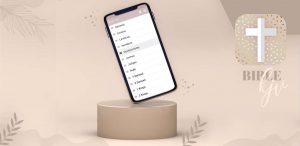 -The Holy Bible is meant to be shared: Create quick and beautiful images with verses to share across social networks. Send verses by email or SMS and share easily on Facebook, Twitter or Instagram.
-Receive biblical verses on your phone. You can set: daily or weekly.
A GREAT COLLECTION OF BOOKS ON YOUR PHONE
Bible KJV has 66 books, from Genesis to Revelation.
The Old Testament has 39 books:
Genesis, Exodus, Leviticus, Numbers, Deuteronomy, Joshua, Judges, Ruth, 1 Samuel, 2 Samuel, 1 Kings, 2 Kings, 1 Chronicles, 2 Chronicles, Ezra, Nehemiah, Esther, Job, Psalms, Proverbs, Ecclesiastes, Song of Solomon, Isaiah, Jeremiah, Lamentations, Ezekiel, Daniel, Hosea, Joel, Amos, Obadiah, Jonah, Micah, Nahum, Habakkuk, Zephaniah, Haggai, Zechariah, Malachi.
The New Testament has 27 books:
Matthew, Mark, Luke, John, Acts, Romans, 1 Corinthians, 2 Corinthians, Galatians, Ephesians, Philippians, Colossians, 1 Thessalonians, 2 Thessalonians, 1 Timothy, 2 Timothy, Titus, Philemon, Hebrews, James, 1 Peter, 2 Peter, 1 John, 2 John, 3 John, Jude, Revelation.
https://play.google.com/store/apps/details?id=bible.kjv.voice