We are pleased to present you a new app containing the Catholic version of the Bible: Douay Rheims Bible, now available for Android.
The Catholic Bible is a Christian Bible containing the whole 73-book canon recognized by the Catholic Church, including the deuterocanonical books: Baruch, Judith, 1 and 2 Maccabees, Sirach, Tobit and Wisdom 
Download, read and listen on your phone or tablet the version that Catholics consider he best and complete version of the Bible.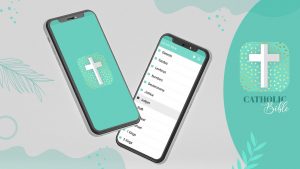 ACCESS THE BIBLE FROM ANYWHERE
–Once the app is on your device, you're able to read the Bible without an Internet connection.
–Compatible for Android phones and tablets
-Totally free
-Audio Bible: listen the Holy Word
FEATURES OF THE APP:
-Quick navigation: you can easily access to any book, chapter and verse
-Search by keyword: look for specific words with our search tool
-Bookmark and highlight verses
-Make list of Favorites
-Adjust font size (for a better Bible Reading experience)
-After a break, you see the current verse of the book you were last reading
-Apply night mode to reduce your blue light exposure
-Receive inspirational verses every day on your phone
SHARE THE HOLY WORD
-Copy, paste and share verses
-Make your own photos with verses to share on networks
–Share Bible verses on social networks
-Send them by email messenger or WhatsApp
CHOOSE A PASSAGE FROM THE BIBLE:
Make this amazing book a part of your daily life.
Choose a passage from the books of the Scriptures and begin to read or listen
https://play.google.com/store/apps/details?id=catholic.bible.daily.readings