Are you looking for a new Study Bible, but not sure one is the best one for you? Choose Study KJV Bible and download it FOR FREE.
ONLINE BIBLE COMMENTARY YOU CAN UNDERSTAND
This Study Bible is designed to give readers study notes and commentary taken from the writings of Welsh Pastor Matthew Henry. Specially for those who want to better understand the biblical text and dive deeper into knowing God.
Bible commentaries verse by verse through the Bible provide explanation of Biblical text. The best tool to understand the Scriptures.
NEW FEATURES
– Free download
– Offline use, no need to be connected to the Internet
– Audio system for listening to verses or whole chapters
– Possibility to highlight and underline verses and even save your favorites in a list sorted by date
– Add notes
– The biblical text is long, so we offer intuitive keyword search
– Font sizes to choose from
– Day mode or night mode to switch and rest your eyes
– Reminder of where you stopped reading the day before when you open the app
SHARE THE GOSPEL WITH ALL
-You can share verses directly to Facebook or other social networks
-Make your own images with verses for your social networks
-Send verses by email, Messenger or WhatsApp to family and friends
-Sign up to receive inspiration on your phone: you may receive daily encouragement through biblical verses delivered to your phone every morning.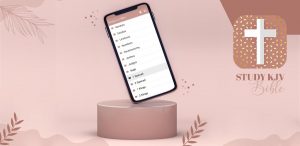 CHOOSE A BOOK FROM THE BIBLE:
The Old Testament has 39 books:
Genesis, Exodus, Leviticus, Numbers, Deuteronomy, Joshua, Judges, Ruth, 1 Samuel, 2 Samuel, 1 Kings, 2 Kings, 1 Chronicles, 2 Chronicles, Ezra, Nehemiah, Esther, Job, Psalms, Proverbs, Ecclesiastes, Song of Solomon, Isaiah, Jeremiah, Lamentations, Ezekiel, Daniel, Hosea, Joel, Amos, Obadiah, Jonah, Micah, Nahum, Habakkuk, Zephaniah, Haggai, Zechariah, Malachi.
The New Testament has 27 books:
Matthew, Mark, Luke, John, Acts, Romans, 1 Corinthians, 2 Corinthians, Galatians, Ephesians, Philippians, Colossians, 1 Thessalonians, 2 Thessalonians, 1 Timothy, 2 Timothy, Titus, Philemon, Hebrews, James, 1 Peter, 2 Peter, 1 John, 2 John, 3 John, Jude, Revelation.
https://play.google.com/store/apps/details?id=study.kjv.bible