Download your personal audio Bible and get the holy Word on your phone or tablet to read the verses wherever you want.
The role of women in spreading the Word is very important. For the devout woman who reads the Bible and also teaches and transmits it, this is the ideal app. With a feminine design, it will be your go-to app. You can carry it on your phone to consult it whenever you need to make decisions and guide your daily life as a wife, mother or independent woman. For all Christian women and believers, the best biblical app.
HAVE THE HOLY WORD ON YOUR PHONE
– Download the complete Bible for free now
– Listen to the Word in high quality sound
– Readable at any time when not connected to Wi-Fi
– You can navigate and find the books and verses comfortably through the user-friendly interface.
SUPERB FUNCIONALITIES
– Easily search for a book, chapter or verse with keywords
– Highlight verses in colors
– Create a list of favorites
– Make notes
– Increase or decrease the font size for comfortable reading
– Recall the verse of the book you were last reading
– Night mode to reduce the brightness of your screen
SPREAD THE WORD
– There is no greater happiness than to believe in God's teachings. Share verses on social networks.
– Create your own images with Bible paragraphs to post or share on social networks.
– Send verses by email, messenger or WhatsApp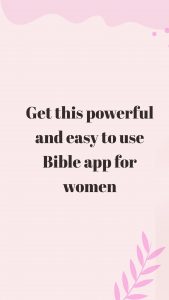 GROW IN YOUR FAITH WITH THE WORD OF GOD
Browse the Bible and choose the book you are looking for. The Bible is divided into two main parts: Old Testament and New Testament.
The Old Testament has 39 books:
Genesis, Exodus, Leviticus, Numbers, Deuteronomy, Joshua, Judges, Ruth, 1 Samuel, 2 Samuel, 1 Kings, 2 Kings, 1 Chronicles, 2 Chronicles, Ezra, Nehemiah, Esther, Job, Psalms, Proverbs, Ecclesiastes, Song of Solomon, Isaiah, Jeremiah, Lamentations, Ezekiel, Daniel, Hosea, Joel, Amos, Obadiah, Jonah, Micah, Nahum, Habakkuk, Zephaniah, Haggai, Zechariah, Malachi.
The New Testament has 27 books:
Matthew, Mark, Luke, John, Acts, Romans, 1 Corinthians, 2 Corinthians, Galatians, Ephesians, Philippians, Colossians, 1 Thessalonians, 2 Thessalonians, 1 Timothy, 2 Timothy, Titus, Philemon, Hebrews, James, 1 Peter, 2 Peter, 1 John, 2 John, 3 John, Jude, Revelation.
https://play.google.com/store/apps/details?id=women.bible.audio